New England Mermaid
It was so lovely to visit tropical relatives 2 months ago. It is also wonderful to come home. Home for a New England Mermaid is where the weather changes quickly – 90 degrees one day and 50 degrees the next. Where seas go from flat calm to churned up by storms. Where the varying deep dark blues and greens of the ocean cast amazing colors across the seas, awe-inspiring and peaceful at the same time, whether surrounded by blue skies or gray clouds. Our home ocean has rocky shores, rougher sand, and large boulders (erratics) formed by the glacial age. Our home has geologic history that creates hiding places for creatures and geo-caches, and large boulders destined for children's climbs, and even an aging mermaid, so that we may announce to all around that we are on the top of the world when we are not beneath it.
I can't believe that I hadn't be to the shore since returning from Grand Cayman. The time was long overdue.
I had so many thoughts as I walked and explored the beach, looked out over the ocean, and tried to see underneath as much as I could with the help of my polarized prescription sunglasses, my large purple "Diva Glasses" as I call them – the ones I chose when I was told that I had just the tiniest beginnings of a cataract and bigger was better – at least in sunglasses!
I looked forward to being beneath the sea again, in my home ocean. I walked along the sands, admiring the seaweeds that had washed on shore, intermingling, forming beautiful patterns. Teasing me about the beautiful gardens below. The ripples in the sand formed by the waves and the tides as the water came forth and receded around the seaweeds mesmerized me. Living and constantly changing works of art like the picture below.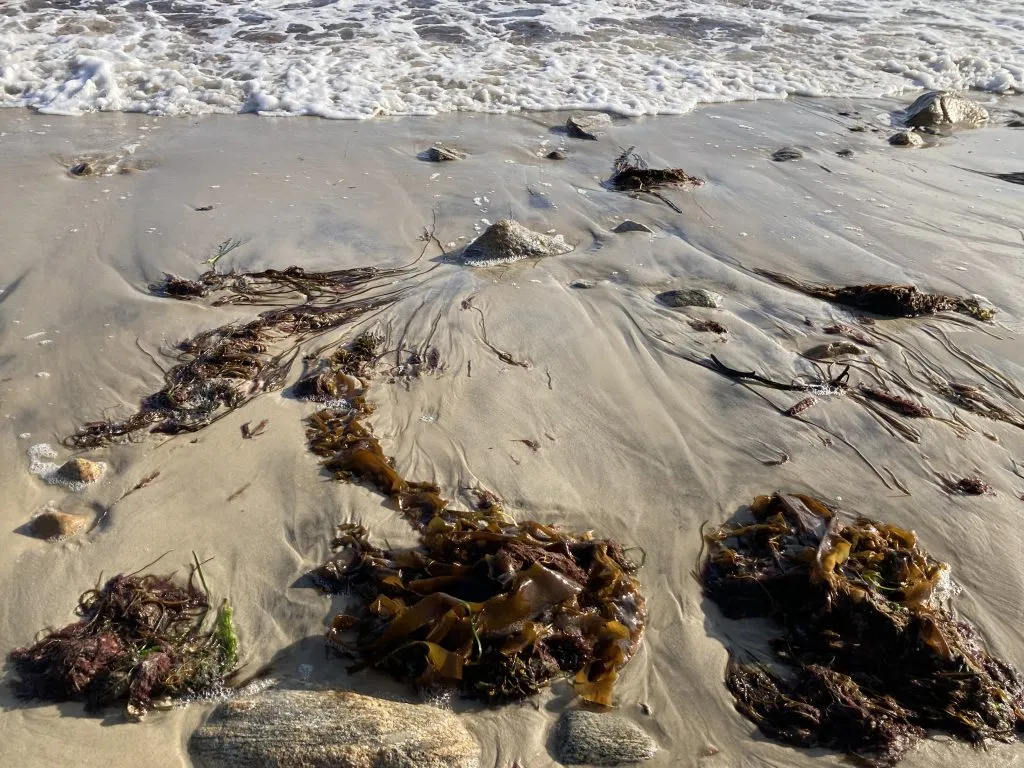 As I continued my walk, I saw evidence of the most dangerous creature towards the ocean – litterers. I wish everybody would fall in love with nature and with the ocean and demonstrate that love by not littering. I picked up a Happy Birthday mylar balloon from the sandy beach. These balloons kill sea life as they are mistaken as fish. I'm pretty confident that a celebration can be amazing without balloons. Celebration and possible marine life death just do not need to go hand in hand. I walked the balloon up to the parking lot to dispose of it safely, then returned to my wanderings. I was back looking at the seaweeds …
Rockweed, sea lettuce, so many forms of red and green algae, so many textures …. Wait, what is different here? This is not right. There is no blue seaweed. We're too far north for the blue floats of a Man o' War float, but it's not impossible given the movement of the Gulf Stream. I took a closer look. Plastic that looks like a jellyfish – mimicking a popular food of sea turtles and fish. Another trip back to the parking lot recycling bin. Hopefully I've saved another undersea friend from a painful early death by mistaking this plastic for food.
I continued on my walk, searching for signs of animal life. I know it's there somewhere. There were a lot of sea birds to watch if I looked up or out to sea. I looked in rock crevices, among the seaweeds, on the rocks themselves. I searched for animal life and did not even spot a periwinkle or barnacle or tiny fish – nothing except sand fleas – but I was happy to see them as they demonstrated that this world was still living. I did see a lot of empty slipper shells, the former homes of a type of snail. Then, excitement… a live one with 3 others stacked upon it. They do this to stay close enough to mate – but this is for a different story. I was reminded of the power of our ocean waves and tides as they were coming in faster. I tried to time the waves to get in and snap a photo while the wave was receding and before it returned. So close … then hurry up and run because I'm about to get soaked. Try again, and again, and again … so close. Then a rogue wave came over the rock on which this slipper shell pile was attached, the water so much higher than previous waves that I needed to turn and run. When I turned back, the slipper shells were gone. Was it by choice, by opportunity, that they moved on? Or was the power of the wave just too strong for them? I tried to find them but did not succeed. I don't know where they ended up, but I am confident that it was quite a ride! Those waves – they bring necessities for life and they also disrupt life. Whatever effect they have, they are always awe-inspiring. Beneath them lies so much to visit and explore.
I know my friends are down there somewhere. I can't wait to see them again! It will be soon!
---