New England Mermaid
Today, March 29th, is National Mermaid Day! Woo hoo – party time! It is also International Mermaid Day, so even more WOO HOO! I recently had the opportunity to visit some of my more tropical friends – lots of underwater friends including another mermaid!
I first met Amphitrite back in 2017. She lives in Grand Cayman, in about 30 feet of water off of the shore of Sunset House, greeting many people and sea creatures who choose to visit her. I was so happy to see her again! Below is a picture that I took of the beautiful Amphitrite who has made this spot her home for over 20 years now.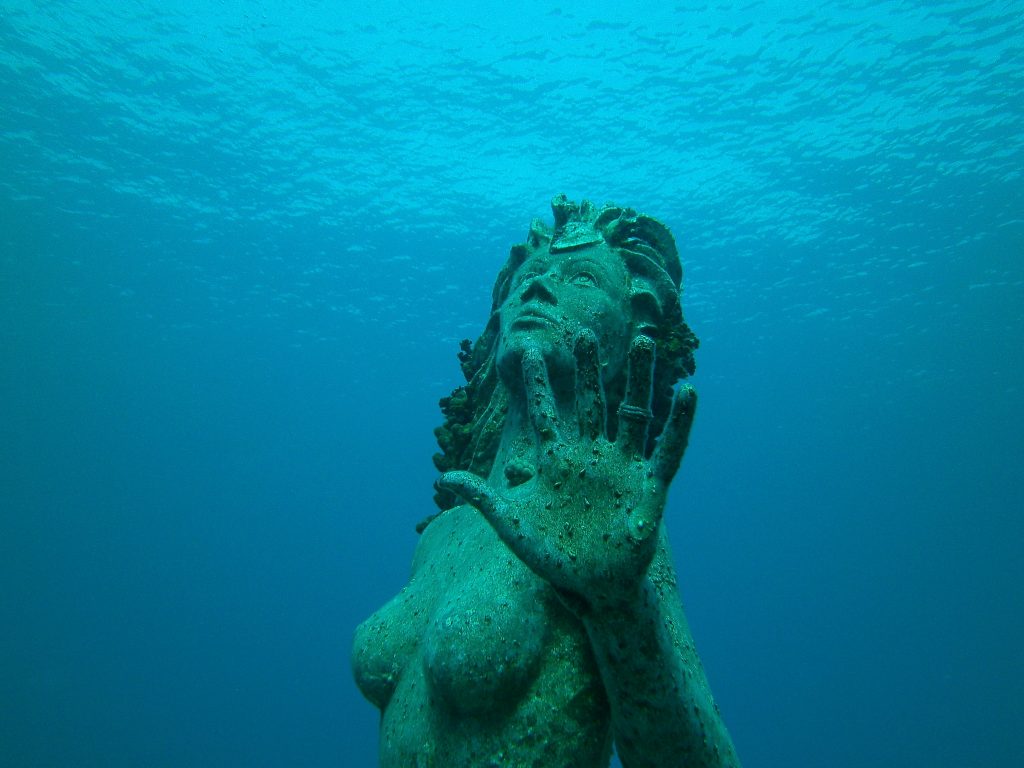 While she is now cast in bronze, and therefore is not the best conversationalist, she was quite active in her day. I've traced her impressive lineage. She married Poseidon, the god of the sea and all water, and became the Queen or goddess of the Sea! That's quite a responsibility. They had many offspring which included dolphins, seals, and other sea creatures. I'm not a scientist, so I cannot explain exactly how that happened. That said, their most famous offspring was Triton, who I have figured out through my non-scientific research, must be King Triton who we know as the father of one of the most famous mermaids in the world, Ariel of Disney's The Little Mermaid. Just think, if it were not for Amphitrite, we would not have ever met our friends Sebastian the Crab or Flounder the fish, who we learned in a previous post is not actually a flounder. Not to be animatedly outdone by her granddaughter Ariel, Amphitrite does make appearances in the animated series Hercules. Now you know!
You may recall from my introduction to this series of blog posts that New England mermaids are a different breed than our tropical friends. We are not the ones that end up in movies, travel brochures, or even, most recently, in Mystic Aquarium's central reef tank. I did not make that up – they were a temporary attraction earlier this month. Now let's be very clear – mermaids do not belong in a tank, but I do believe they were there willingly and left in the evening to go to wherever it is that they go at night.
New England mermaids must contend with cold water, rough surf, additional weight (often both on the weight belt and/or on the body as we do need our natural insulation. Here is a picture of me visiting with my friend Amphitrite. As you can see, I'm trying to pull off a bit of a blend between New England and tropical mermaid. Note the word "trying." We're simply not as glamorous, and we're okay with that. There must be some sort of up-current that explains my hair somehow resembling the Coneheads of the 1990s Saturday Night Live skits. You can take the New England Mermaid to the Caribbean, but you can't take the New England out of her!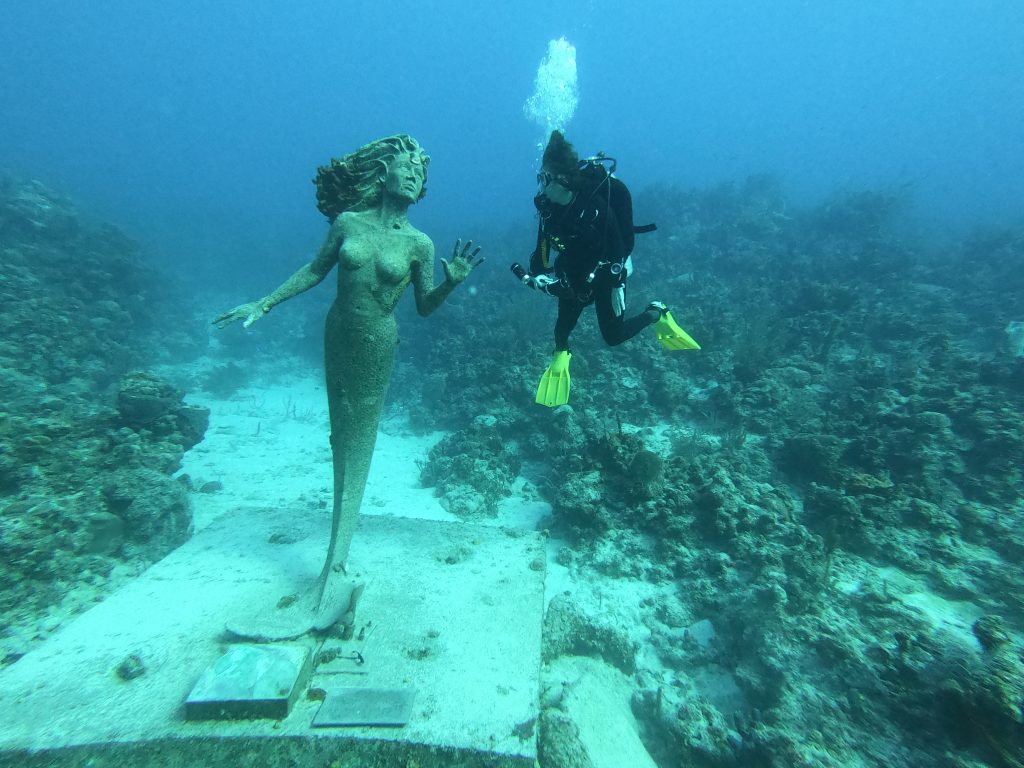 Amphitrite is not the first statuette friend with whom I've hung out. I've also enjoyed some time on land with the friend of all sea life Rachel Carson. I was fortunate to meet up with her on the streets of Woods Hole on Cape Cod, back in January 2020. Rachel (we're on a first name basis now after our chat) was an amazing pioneer of ocean advocacy, and advocacy for all of nature. You may know her as the author of "Silent Spring," the book that exposed the damage of DDT. Before that, she wrote several other books that have more beautiful stories about the wonders of the sea. I have read them, and highly recommend Under the Sea Wind, The Sea Around Us, and Edge of the Sea. She combines brilliant writing and story-telling with her knowledge as an accomplished scientist. As a scientist, perhaps she could explain how Amphitrite produced offspring that included seals, dolphins and other sea creatures, along with the King-to-be Triton. You can visit the many preserves named in her honor up in Maine. I have visited several, and they are all lovely.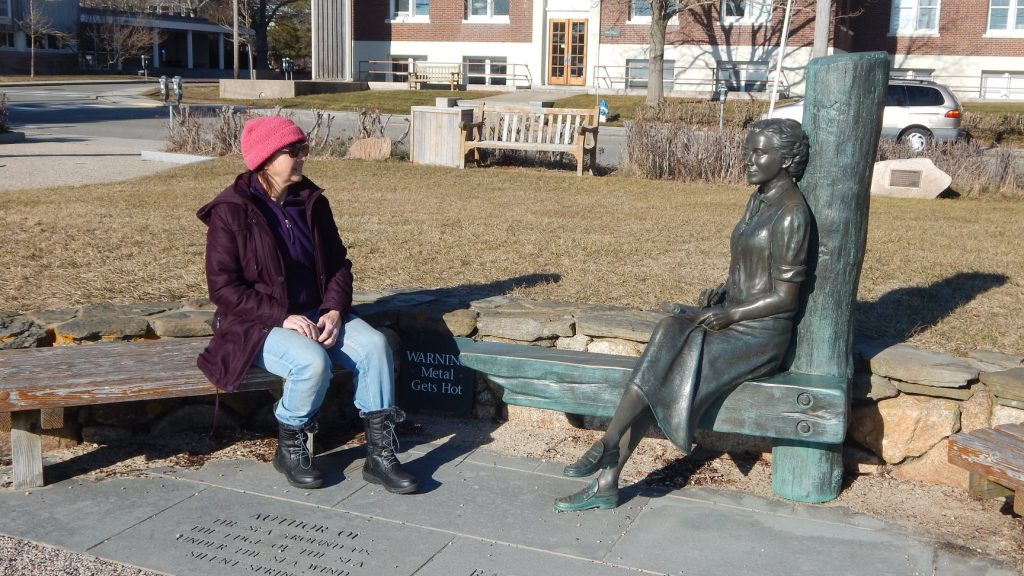 Rachel Carson is a bit of a heroine to me. She was a conservationist before that was cool! Here's something really cool about Rachel Carson, who is already super cool and needs no additional reasons to be cool. While teaching so many of us about sea life, she did it all from shore. She never scuba dived. (Scuba dove? I'm really not sure about the grammar there.) She didn't hang out underwater. I don't think she considered herself a mermaid. That said, she is proof that you can become friends with the sea creatures and advocate to save their lives without having to visit them at depth. That means that if you, my friend, are not a diver, you can still be a lover of all things ocean, help to save them, and even (and this is important) consider yourself to be a mermaid, merman, or other merperson.
---